Day One:
Arrive at the Hotel Belleclaire
view of Broadway through window
Next:
Island Burgers and Shakes
(cell phone photo)I ordered the Mulberry St. Burger-medium rare. Really good.
off to a good start.
and then:
The American Museum of Natural History
ROAR!
Museum etiquette? Is it not a thing anymore? I've tried really hard never to be complaining in my blog, but OMG! What is wrong with people?
1. Cutting is bad form. Wait your turn.
2. Touching is a no-no. If the metal railing is not an indicator that you aren't
supposed
to touch, the 1/2 thick
piece
of plexi-glass should be a clue.
3. Reel in your kids!- I have them too. Mine too are smart, funny and adorable, however that doesn't mean I would allow them to run, scream, cough-(repeatedly), touch, jump, and or bump into people. "Teach your children...well".
and then:
30 Rock
It was an unusually mild night, and all of the lights on the overcast sky turned the night sky a beautiful shade of purple.
and then:
My husband, children and I shared a couple of Margherita pizzas, an antipasti with figs, roasted peppers and Brussels sprouts and one of the nightly specials, a pasta with little-neck clams- really simply flavors- So good.
and then:
Photo Credit- Charles W. Cowan, IV
It had rained earlier in the day but the sky completely cleared up until around 10:30 PM when it down-poured. It was hilarious! We ducked into an ATM vestibule with some nice folks from Texas, but the rain wasn't letting up so just walked in the rain. My daughter only had her Uggs and my son his Converse-we were able to dry them out on the hotel radiator...well mostly.
Day Two:
Le Pain Quotidien
Breakfast was just okay. The bread was delicious, but I like my coffee hot, and the coffee is served in a bowl, so lukewarm-ehh. The interior is rustic and charming, and the waiter was incredibly sweet-despite the woman seated next to us that made him jump through hoops.
A walk through Central Park on the way to the Metropolitan Museum of Art--we stopped the Belvedere Castle for a photo.
and then:
The Metropolitan Museum of Art
The Metropolitan Museum of Art
Some of our favorites:
Untitled
Anish Kapoor (British (born India) 1954)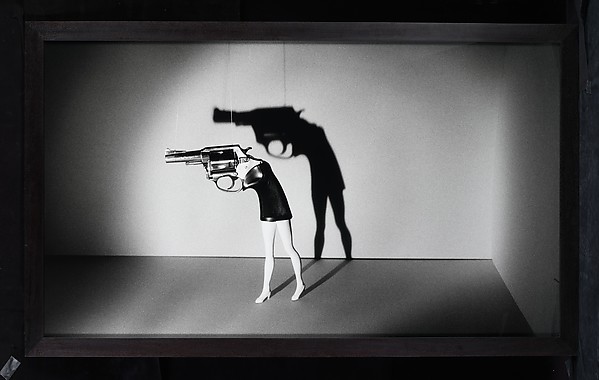 Walking Gun
Laurie Simmons (American, born 1949)
We roamed the galleries for over 4 hours, and if hunger didn't set in we probably could have done 4 more.
I took this with my cell phone-didn't get the label! Oh well. It is an ice crushing gun. So Cool.
May 23, 2011 – March 11, 2012

--See this one...so Coo

l
and then:
502 Amsterdam Ave.
,
New York
,
NY
10024
absolute favorite meal. It was cash only, but very affordable. All quality ingredients--extreme freshness in flavors. I asked our waiter to bring me his favorite-partly because I now need reading glasses, but mostly because I'm an adventurist, so I didn't know what I was getting until it was in-front of me. I had to look it up so I can recreate it. The servers were very personable and unpretentious and the host kept things running like clockwork. It was almost as enjoyable as the meal. he kept an eye on the door and one on the dining room at all times, all the while giving instructions to the servers in Italian, with a melodic intonation. Biggest bang for our buck.

Appetizers:

Involtini Di Melanzane

eggplant rolls stuffed with prosciutto and pecorino cheese baked with tomato sauce


Calamari Fritti

fried squid





Entrees:


Tagliatelle Con Gamberi E Verza egg noodles with cabbage shrimp and pecorino cheese

Gnocchi Alla Sorrentino

potato dumplings with tomato sauce and basil



Spaghetti Alle Vongole

spaghetti with imported clams in white wine and parsley
I can't remember what the forth dish was, but it was equally amazing.
and then:
Back to Times Square for some last minute shopping and to walk off that amazing meal.
and then:
on the corner of 366 Columbus Ave and W77th
Nightcap of Strawberry and Chocolate Shakes all around.
Day Three/Last Day:
Eately-again!
If you are going to Eately-bring a
Sherpa. I brought mine. It is like Disney World for Foodies.